How to clean wood floors
One of the advantages of a Junckers wooden floor is that in general, cleaning and maintenance is simple and straight-forward. With proper cleaning and maintenane of your wood floor, your investment remains beautiful and functional throughout its lifetime.
Junckers' woodcare range comprises a carefully chosen selection of products for regular care and maintenance, we have a complete solution whatever the task - cleaning, refreshing or re-caoting with oil or lacquer. We produce woodcare products that are specially developed for residential homes.
THE BEST WAY TO CLEAN WOOD FLOORS
Daily or weekly cleaning of your wood floor is easily handled by sweeping or vacuuming, supplemented if needed by wiping the floor with a well-wrung damp cloth or a damp (not wet) mop.
If your wood floor is dirty we recommend using Junckers Floor Cleaner.
Find out how to clean your wooden floor - oiled or lacquered
REGULAR CARE AND MAINTENANCE OF WOOD FLOORING
With ordinary use in a private home, a varnished or oiled wood floor rarely needs a new surface treatment. Light wear and small scratches will appear on the surface over time and if this happens, it is easy to freshen up the floor with one of our care and maintenance products.
Read more about maintaining your floor in the links below.
How to maintain your lacquered wood floor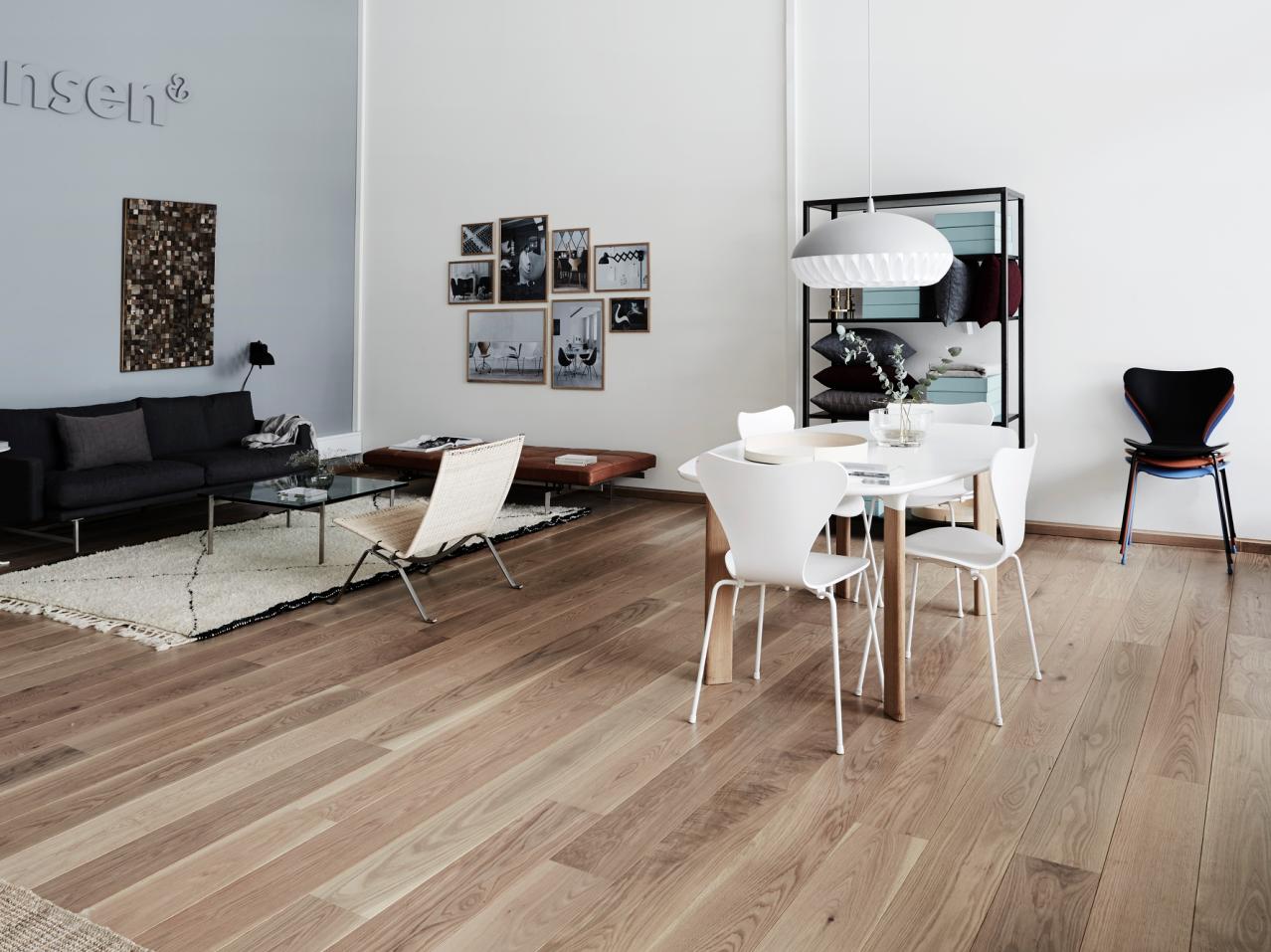 SANDING AND RENOVATING YOUR WOODEN FLOOR
An oiled or lacquered wood floor is usually very easy to live with and easy to clean. With proper care and attention, it is a flooring surfaces that lasts a long time. At some point, you may experience the need to renovate your floor, and when you do, there are easy ways to give your floor a refresh.
Click on the links for our step by step guide to renovating your wood flooring.
How to renovate your oiled wood floor
Some of the best and easiest ways to take good care of your wooden floor
#1 KEEP GRAVEL AND SAND OUTSIDE
One of the best things you can do for your wooden floor is get a good doormat for cleaning and drying your shoes as you come in. Ideally, get one for inside the door and another for the outside.
#2 ADD PROTECTIVE PADS TO YOUR FURNITURE
Add soft protective pads on the bottom of furniture legs, especially those wich tend to be moved around. Using protective pads under the legs of tables and chairs will not only protect your floor from being scratched, it also reduces noice.