Refurbish of oil-treated floors
A wooden floor with a oiled finish is easy to live with, easy to clean and with proper care it will last for a lifetime. At some point in its long life it will most probably be necessary to treat the floor to a sand and re-oiling as part of an effective manitenance scheme.
Follow our step by step guide to treating your wooden floor with oil.
What does renovating an oil-treated wooden floor entail?
Renovating your oil-treated floor means sandong it and re-treating the wood. In the majority of cases, the need to renovate is based on the wear and tear your floor is exposed to and how well you clean and maintain it.
When renovating your floor, it is important to know whether or not your floor is made of solid wood. If you have a solid wood floor, you will be able to sand it many more times than, for example, an engineered wood floor.
Junckers solid wood floors can be sanded as following:
14mm thick wood floor – 5 times
15mm thick wood floor – 6 times
20.5mm thick wood floor – 8-10 times
22mm thick wood floor – 8-10 times
If you are unsure whether or not your floor is made in solid wood and can be sanded, it is a good idea to contact a professional floor sander.
When should I renovate my wooden floor?
When the oiled surface has been worn off your floor, or the surface of the floor is scratched and damaged, it is time to renovate your floor by sanding it and giving it a fresh, new surface treatment.
Why should I choose oil for my wooden floor?
An untreated or newly sanded wooden floor can easily become dull once you start using it due to general dirt and wear. An oil treatment of your floor will protect it and at the same time adding a beautiful glow to the timber and a hardwearing surface.
The benefits of an oil-treated floor:
A wooden floor with a classic appearance. You can choose from many different colours, to emphasise the character of your home.
A wooden floor which is easy to clean using Junckers SylvaCleaner
A wooden floor that can be spot repaired in areas where there is high traffic. (With a lacquered wooden floor, you will not be able to spot repair, the whole floor has to be sanded and refinished.)
Guide: How to oil your floor
You need:
Vacuum cleaner
Sanding machine with sandpaper grit 100-120 and sandpaper grit 180-220.
Clean, lint-free cloths, polishing machine fitted with a white nylon pad, plus a green or black nylon pad
Junckers RUSTIC FLOOR OIL
Priming of untreated/sanded wood
1 | Before priming
Ensure the surface is absolutely clean, dry and free from dust, wax, grease, polish etc. Any irregularities can be removed by sanding in the direction of the wood grain, longitudinally along the floorboards. Final sanding should be conducted with sandpaper grit 100-120.
2 | Vacuum sanding dust
3 | Moistening the surface prior to oiling - recommended
This improves oil saturation and provides a uniform appearance. Use a damp cloth and make sure that the floor is evenly and visibly dampened. Leave to dry until the surface no longer feels damp.
We recommend dividing larger areas into smaller, more manageable sections which can be oiled in 30 minutes. Make sure any overlapping edges between the oiled areas do not dry out during treatment.
4 | Apply two coats of RUSTIC FLOOR OIL wet in wet
Start by applying one coat of oil.
Wait up to 30 minutes and then apply the second coat.
Make sure the oil appears glossy/wet and spread the oil from wet to dry areas where the oil has been absorbed.
After 20-30 minutes of processing, and while the oil is still wet buff the surface lightly with a white nylon pad.
Finally, remove excess oil with a clean, lint-free cloth. Be sure to wipe off all oil for a uniform, matt surface.
Areas with oil that has not been absorbed will discolour the surface when it dries.
Leave to dry for 16-24 hours before applying the finishing coat of oil.
Finishing with RUSTIC FLOOR OIL
1 | Sand or scour the surface carefully with fine sandpaper grit 180-220 or a green or black nylon pad.
2 | Vacuum sanding dust
3 | Apply one coat of RUSTIC FLOOR OIL
4 | Make sure the surface is saturated, then polish with a clean, lint-free cloth until the floor feels dry
5 | Any oil which has not been absorbed must be removed within 30 minutes of application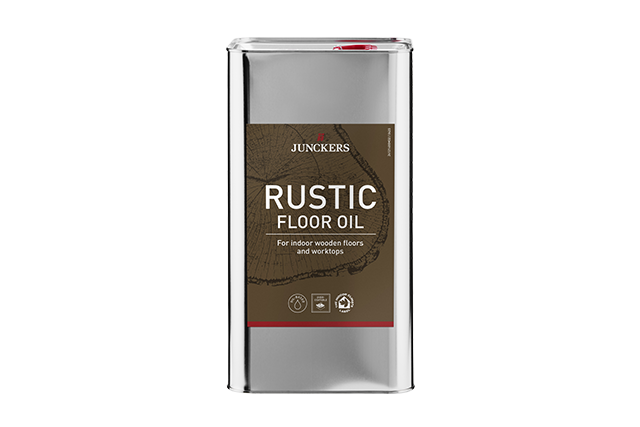 Maintenance of oiled wooden floors
Once you have oiled your wooden floor with Junckers Rustic Oil, your floor will benefit from being treated with Junckers MAINTENANCE OIL two or three times a year. With this method, you will keep your wooden floor looking beautiful for a long time, the wood will remain protected and in optimal condition.
Daily cleaning of an oiled wooden floor
Dry cleaning is the best way to clean hardwood floors. Vacuum and sweep the wood floor regularly and if needed, clean the wood floor with a well-wrung damp cloth or damp mop.
If the floor is dirty, we recommend using Junckers FLOOR CLEANER.
FAQs and tips on how to care for an oil-treated wooden floor
How long is the life of the wooden floor? add
The lifespan of the wood floor depends on how you treat it. If you take care of your wooden floor regularly, it will not be the wood itself that gets worn, but rather just the surface treatment.
This means that a wooden floor can in principle last for many generations if you make sure to treat it with Refresher or Rustic Oil at appropriate intervals.
Be aware that some places in the home are worn on the floor larger, and therefore require more maintenance. Areas where there is a lot of traffic, such as the entrance hall and kitchen, typically wear out faster than the living room and bedroom. If there are pets and children in the home, the floor also wears a little extra.
In order for the floor life to be as long as possible, it must not be exposed to excessive use of water or unnaturally high humidity.
How do I clean my wooden floors? add
Daily cleaning is simple.
You only need to vacuum, sweep or wipe the wooden floor with a cloth or mop hard wrung out in water. Use as little water as possible. Too much water can damage your floor.
Use the right products add
Use only soaps and care products suitable for oiled wooden floors. Using the wrong cleaners can damage the floor.
My wooden floor has a grey tinge add
If your wooden floor has acquired a grey tinge even though it has just been washed, it may be because when washing the floor you rinse the cloth or mop in water that is not clean. This can lead to dirt being spread all over the wooden floor, which may take on a grey tinge. A simple way to get round this problem is by using two buckets when you clean your floor - one with clean, soapy water, and another for wringing the water out of your cloth of mop.
Use doormats and small rugs add
One of the areas where your wooden floor is most exposed to wear and tear is by doors to the outside. Adding a doormat as you enter, be it an entrance hall or garden room, is a very effective way of protecting the floor against small stone, grit, dirt and moisture.
You can also minimise daily wear and tear of your floor under the dining table where chairs are pulled in an out as you sit down or get up by placing a rug under your table.
Avoid scratches on your wooden floor - use felt pads add
One of the most important things you can do to keep your floor looking great is to protect it. Using cushioned felt pads under your furniture will prevent marks, scratches or wear and tear. A chair, for example, will inevitably leave marks and scratchs over time if it is pulled in and out of a table. The scratches may eventually wear through the protective coats of lacquer or oil leaving the bare wood exposed to damage. Adding cushioned felt pads to the bottom of furniture legs and bases is one of the easiest things you can do to prevent this for happening.
How much does it cost to have a floor professionally sanded in Ireland? add
The cost of sanding a floor per m² will depend on several factors:
How many rooms are there?
Are there any repairs need to damaged boards?
What level of sanding is required? A light sand or back to bare wood?
Does re-finishing the floor include applying a colour treatment ?
The rates for sanding vary from €20 - €45 per m2 and are subject to site survey
How do I sand a floor? add
Machine sand wood flooring using coarse, medium and fine sandpapers to ensure a flat, clean surface. Machines used include drum sanders, edgers and buffers (also known as finishing machines).
To achieve the desired look, the first coat known as the primer coat is often the most important coat (and often the most difficult to get right!). This coat can be oil, coloured oil, stain, waterbased clear primer, coloured primer or solvent based primers.
Once the desired look and style has been achieved apply layers of lacquer or oil to provide a wear layer of protection to the timber floor. This can be anything from one to three coats depending on the location, expected foot traffic and usage.
Can I sand my hardwood floors myself? add
Sanding wooden floors is a skilled job and we always recommend contacting a professional flooring contractor. As well as getting a perfect finish with a sanding machine, an experienced professional will know what finishing treatment works with what wood to achieve the desired finish, knowledge which takes years of expertise and finesse.