CLIP SPORTS FLOOR
SPECIFIER'S AND INSTALLATION INSTRUCTIONS
---
---
INFORMATION
CLIP SPORTS FLOOR SYSTEM
D 1.0
General information
Junckers Sports Floors
D 2.1
Specifier's and Installation
instructions
Table 1
1. SYSTEM SPECIFICATION
Floor construction:
Junckers Clip Sports Floor System is based on 22 mm solid hardwood floor boards installed as a floating floor with steel clips on a resilient foam underlay.

Construction height: 32 mm.

Performance:
The floor system is categorized as an area elastic sports floor with medium shock absorbency and elasticity particularly suitable for fitness and aerobics as well as in refurbishment projects.
The floor system is tested and approved according to the European Sport Norm EN 14904 class A3, when using 10 mm Junckers Sports foam.
Step sound reduction by installation on heavy constructed horizontal divisions:
22 mm floor boards on 10 mm SportsFoam underlay: 17 dB.
22 mm floor boards on 5 mm SportsFoam underlay: 15 dB.
For general information about sound and practical guidelines on acoustics in floor constructions, see E 5.0.​

Read all information:
Please note that full documentation of a this floor system comprises General information and Specifier's and Installation instructions, see table 1.
---
2. FLOOR COMPONENTS - JUNCKERS CLIP SPORTS FLOOR SYSTEM
Junckers 2-strip solid hardwood floor boards for sport
Thickness x width x length
22 x 129 x 3700 mm

Wood Species, grade and surface:
See data sheet B 2.0
Steel Clips
Intermediate layer
10 mm Junckers SportsFoam
Moisture barrier on concrete
0.20 mm PE membrane, Junckers
Moisture Barrier, 4 x 25 metre.
Header joint adhesive
Junckers SylvaFix
Expansion gap at the wall
2 mm per metre of floor width on each side, min. 15 mm.
Is also required at fixed points, e.g. columns.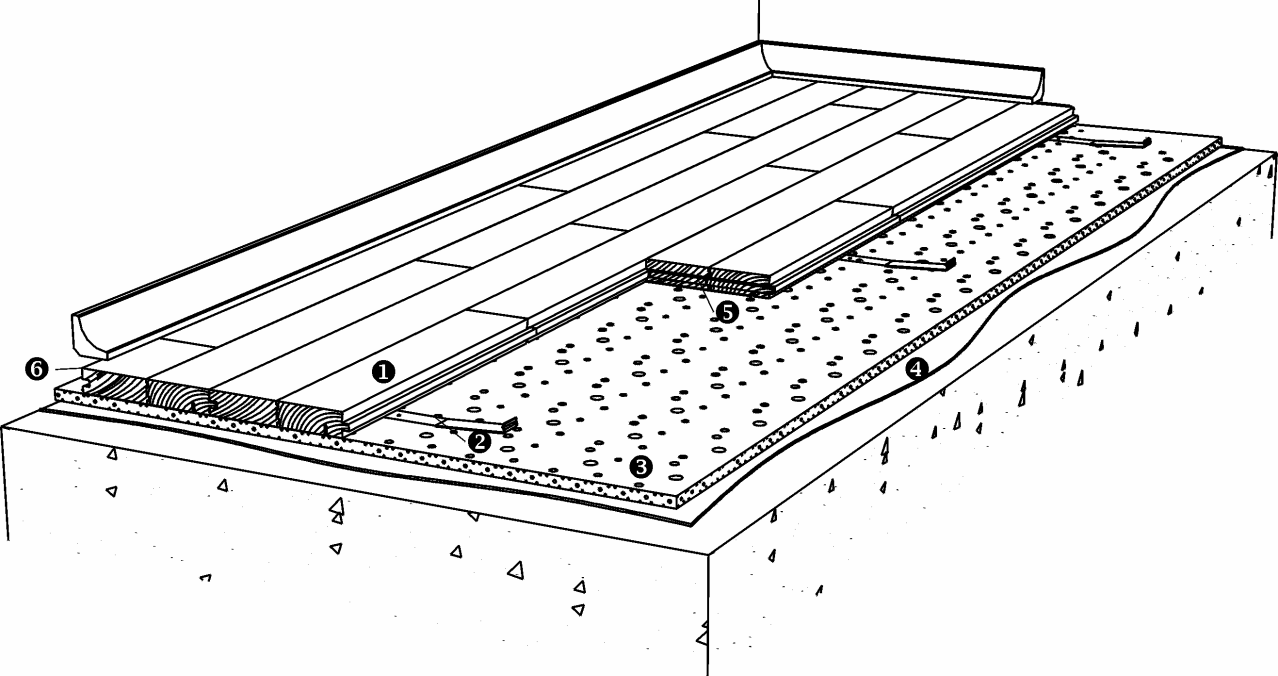 ---
3. LOAD-BEARING STRENGTH OF THE SYSTEM
Load-bearing strength of the clip system depends on the type of load, see table 2.

See also data sheet D 1.0 - Stiffness and load-Bearing strength of floors.
Table 2
Loading types
Floor board thickness
Area load
per m²
Area load
ø25 mm
Area load
100x100
Wheel
load
22 mm
800 kg
350 kg
400 kg
Se D 1.0
Table 1
---
4. CHOICE OF SUB FLOOR
Subfloors must be self-supporting and can be made of concrete, lightweight concrete, screed or in connection with renovation be an existing sports floor with e.g. a synthetic or wooden floor surface.

The elasticity of the subfloor has a direct impact on the properties of the completed floor in terms of deflection, impact absorption and ball bounce.

In renovation projects the elasticity and load bearing strength of the existing floor must be assessed in relation to the use of the floor.

If the floor area is made of several types of subfloors, it must be of uniform elasticity and flatness, to ensure a uniform performance of the sports floor.
---
5. BEFORE BEGINNING TO INSTALL THE FLOOR
The building must be weather tight. The heating system must be installed and tested, and during the heating season there should be a constant heat supply.

Cast concrete elements, including casting of sockets for fixtures and fittings, screeding and other wet trades which can contribute moisture to the building, e.g. priming of paintwork, must also be completed.

The relative humidity in the building must be within the relative humidity interval expected, when the building is in use and the room temperature approx. 20°C.
---
6. MOISTURE PROTECTION
Concrete subfloors
The residual moisture contained in the concrete or screed must not exceed 90% RH.
(UK: Concrete moisture max. 75% RH acc. to BS 8201, when checked by measurement).

At ground and upper levels protection against moisture both from within the building and from the ground is required.

A moisture barrier is established by laying a damp-proof membrane, 0.20 mm PE membrane or 1000 g polythene, e.g. Junckers Moisture Barrier, directly on the concrete, see Fig. 2.
Wooden subfloors
The moisture content of a wooden subfloor must be in balance with the relative humidity of the room, i.e. moisture content of 6-12%.

For renovation projects where floating floor systems are laid on existing wooden subfloors, it must be ensured that the entire structure has been designed to the correct specifications regarding moisture.

Usually, no additional moisture protection is laid on top of an existing wooden floor as this may course the risk of fungal attacks in the sub construction, see fig. 3.
---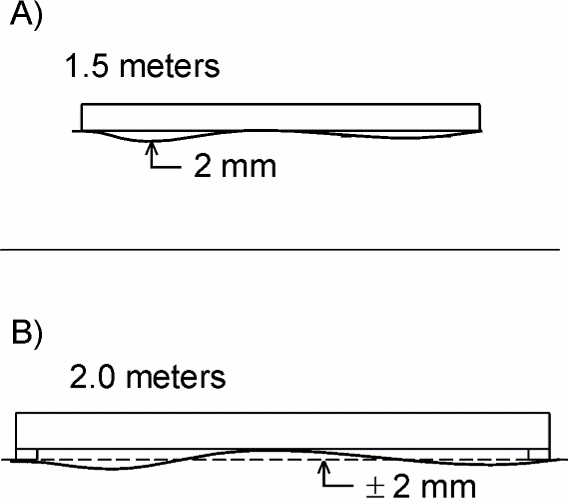 7. FLATNESS OF THE SUBFLOOR
Before intermediate layers are laid the subfloor must be levelled so that any deviations in the flatness do not conflict with the requirements of one of the two
methods stated below, see fig. 4.

A) Traditional straight edge
The subfloor must be flat with a maximum deviation of 2 mm under a 1.5 m straight edge.
UK: 3 mm under a 2 m straight edge).
The surface must be smooth. Any minor irregularities mustbe corrected.

B) Straight edge with supports
The subfloor must be flat with a maximum deviation of ± 2 mm under a 2 m straight edge (2mm supports). The surface must be smooth. Any minor irregularities, e.g. across day joints, must be corrected.

Major irregularities on concrete floors can be corrected by using a selflevelling compound. Wooden subfloors may be levelled by sanding or installing hard fibreboards, possibly combined with filler, or by laying fibrous plasterboards.

Junckers Technical Information specifies the flat level requirements of subfloors as A maximum deviation of 2 mm under a 1.5 m straight edge.
(UK: 3 mm under a 2 m straight edge).
---
8. INTERMEDIA LAYER - SPORTSFOAM
As intermediate layer for a Junckers floating sports floor, use Junckers 10 mm Sports Foam.
For more information, see Junckers Sports Foam H 3.3.
---
9. ADHESIVE
All floor board header joints are glued with Junckers SylvaFix, header joint adhesive. Never apply adhesive to the longitudinal sides of the floor boards, except for the floor boards in the last row, if the clip-groove is cut off.
---
10. CHOICE OF INSTALLATION CLIP
Installation Clips are available in different sizes according to various air humidity ranges.

The clip size is selected primarily on the basis of the expected maximum relative humidity (RH) in the building during the year, see fig. 5.
However, in order to minimize the overall movements of larger floor areas, it may be necessary to choose a larger clip size than normally corresponding to the expected maximum RH.
---
The general rule for sports floors is as stated in table 3:
Table 3

Floor area

Clip size

Humidity range %

Gaps at installation time

Label colour/Clip taging

< 500 m²

129.4 mm

35 - 65

Appr. 0.4 mm

Yellow, 2-hole

> 500 m²

129.6 mm

35 - 65

Appr. 0.6 mm

Black, 2 ½-hole
We ask you to contact Junckers for advice, if the expected humidity range does not match the interval 35 - 65 %.
We have clips matching any humidity range, see examples in table 4 below.
Table 4

Clip size

Humidity range %

Gaps at installation time

Label colour/Clip taging

128.8 mm

10 - 40 **

Arctic/desert areas*

White, 0-holes

129.1 mm

25 - 55 **

Appr. 0.1 mm

Green, 1-hole

129.8 mm

65 - 85

Appr. 0.8 mm

Red, 3-holes

130.2 mm

75 - 95

Appr. 1.2 mm

Orange, 4-holes
*Arctic/desert areas
The 128.8 mm clip is used in arctic and desert areas. Acclimating of the wood prior to installation is necessary.

** Humidity range from 10 - 55 %
In a very dry environment there will be some larger permanent gaps between the floorboards.
Specifiers are advised to contact Junckers Technical department if such conditions are anticipated.

Fluctuation in the relative humidity
With all clip sizes, gaps will appear when the relative humidity falls to, or below, the lower end of the recommended humidity range.
---
11. NET CONSUMPTION OF MATERIALS
Net consumption for a Clip Sports Floor System:

Floor boards: Area + approx. 2% wastage
Steel Clips: 17 pcs. per m²
2-way steel clip (Optionally): 3.3 pcs. per m²
Loose tongues of 600 mm (Optionally): 1 x the length of the sports hall
Junckers SportsFoam: Area + approx. 2% wastage
Junckers SylvaFix, Header joint Adhesive: 1 bottle per 75 m²
Moisture barrier, 0.2 mm PE membrane (always on concrete): Area + approx. 10% wastage incl. Overlaps

For halls with many columns, etc. extra clip consumption must be included in the estimated consumption.
---
INSTALLATION INSTRUCTIONS
---
1. WHEN TO START INSTALLATION
Solid hardwood floor boards should always be laid immediately after arrival at the building.

The plastic wrap must not be removed until installing of the floor begins.
---
2. MOISTURE BARRIER
A moisture barrier of min. 0.20 mm PE membrane is laid, e.g. Junckers Moisture Barrier.

The moisture barrier is laid with an overlap of 200 mm at all joints, continuing up walls, etc.

The polythene has to be taped at all lap joints using a tape 50 mm vide.
---
3. INTERMEDIATE LAYER - SPORTS FOAM
Junckers Sports Foam is laid parallel to the laying direction of the floor boards with joints fully closed and taped in place.
---
4. CLIPS AND ADHESIVE
Before starting to install the floorboards, make sure that the clip size corresponds to the expected relative humidity in the building during a full year.
With the underside of the floor board facing upwards the clip-end with hole(s) is knocked down into the clip groove, so that the free end of the clip points in the direction of the tongue, which is also the laying direction, see fig. 6.1 & 6.2.
All floorboard header joints are carefully glued, see fig. 6.3. Use enough glue to secure a tight and strong joint. Never apply adhesive to the longitudinal sides of the floorboards, except for the floor boards in the last row, if the clip-groove is cut off.
Where the floor surface is broken by columns, etc. extra clips must be placed at a distance of 200 mm.
---
5. MOUNT THE CLIPS CORRECT
The first and last clips are placed maximum 80 mm from the board end adjoining the end wall.

The spacing of the clips must be 500 mm.

Ensure that the clips do not touch each other by alternating them (in line) at approx. 50 mm intervals.

Make sure the free end of the clips is properly placed in the groove on the neighboring board.

Since this can be difficult due to the elasticity of the mat, use e.g. a small metal plate or the like as a load spread sheet. The metal plate is moved as work progresses.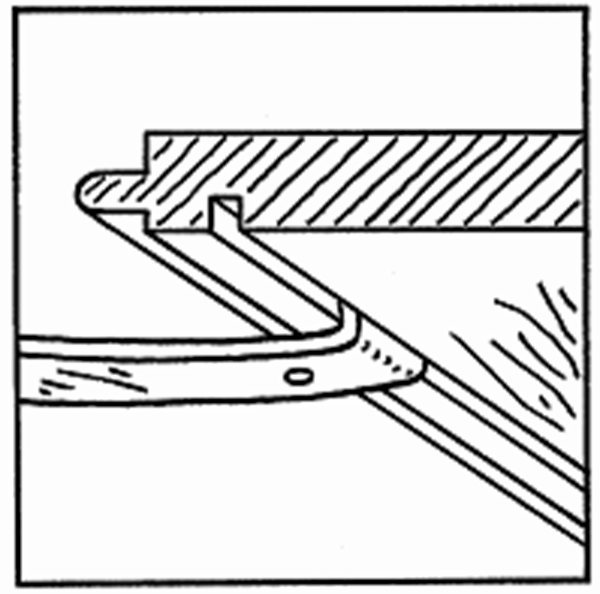 ---
6. DISTANCE TO WALLS AND FIXED INSTALLATIONS
The distance (A) between the floorboards and walls/vertical fixed installations is calculated as 2 mm per running metre of floor width on each side.
Distance (B): Keep min. 12 mm.
---
7. LAYING DIRECTION, PATTERN AND BOARD JOINTS
Lay the floor boards in an irregular pattern, spacing floor board joints as evenly as possible.

The distance (A) between floor board joints in two consecutive rows should be at least 450 mm, see fig. 8.1.

Stave joints in one row may not adjoin stave joints in the adjacent row, but must be spread as widely as possible and minimum 50 mm.

Adjust the floor boards in the last row. Remember the correct expansion gap (B) to the wall, see fig. 8.2.

The last row of floor boards is glued in the groove, if the clip-groove is cut off and is laid against the floor boards in the previous row. Use a joint puller (C) to knock the last floor board into place, see fig. 8.3.
Remember to remove spacing blocks before skirting is mounted.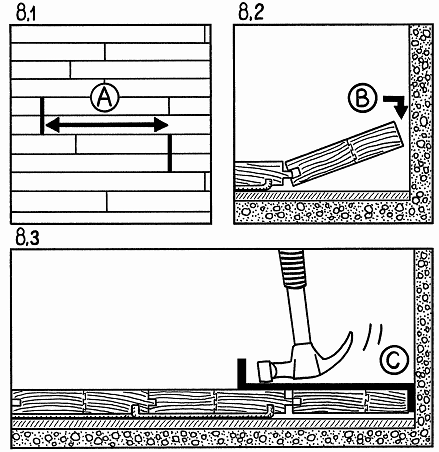 ---
8. BUSHINGS
When mounting of bushings in the floor the internal diameter of the bushing must exceed that of the pipe, i.e. the external diameter of the net pole, by at least 40mm.

At the outermost zones of the floor all bushings are mounted eccentrically towards the middle of the floor in relation to the sockets in the concrete, see drawing.

Floor rosettes must be mounted to allow both vertical and horizontal movement of the floor to take place unimpeded.